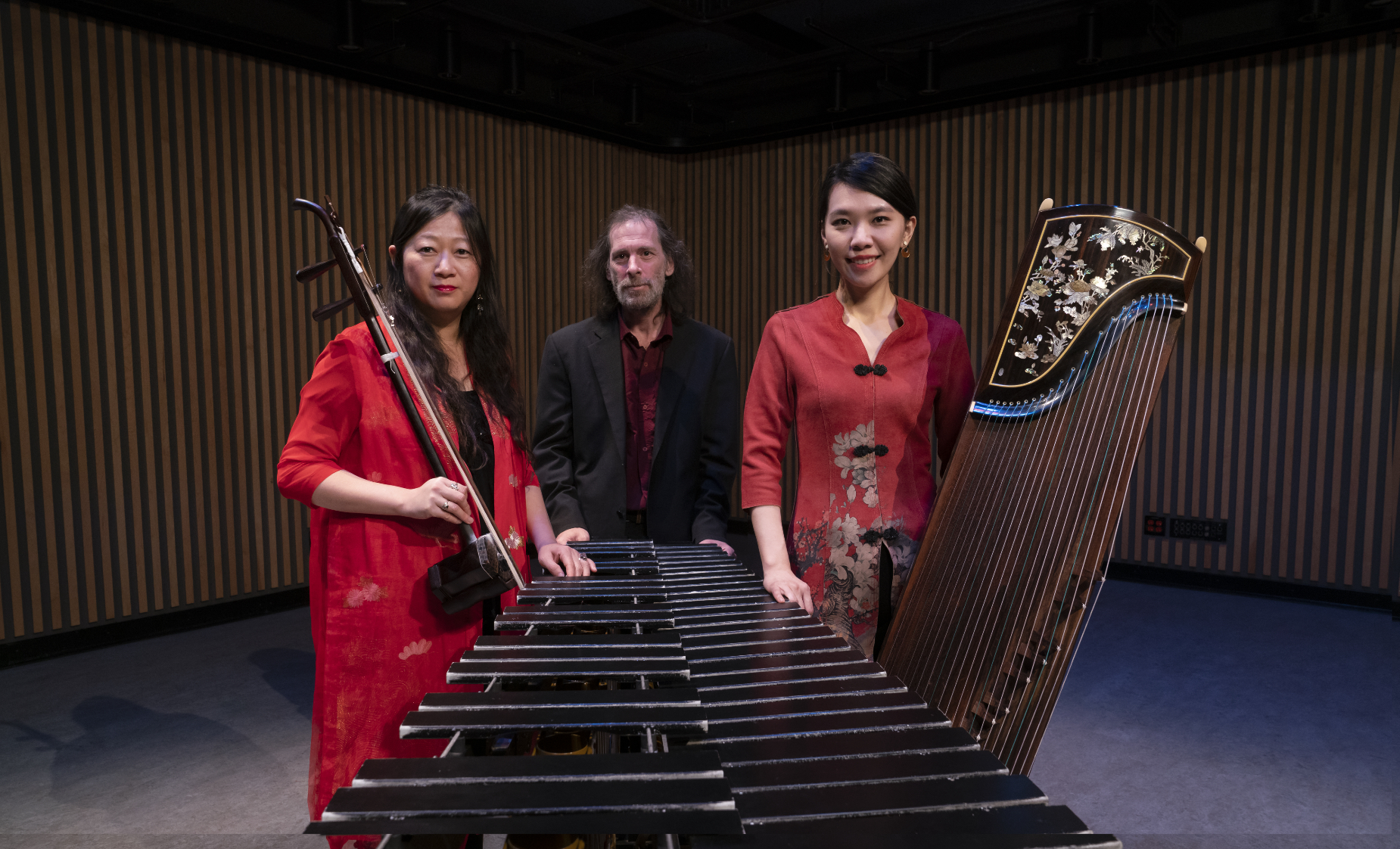 Orchid Ensemble 
Established in 1997, the JUNO nominated Orchid Ensemble is acclaimed as "one of the most adventurous groups uniting Eastern and Western musical traditions" (Georgia Straight). The trio is made up of internationally renowned musicians Lan Tung (Taiwan/Canada) on the erhu/Chinese violin & vocals, Dailin Hsieh (Taiwan/Canada) on the zheng/Chinese zither, and Jonathan Bernard (Canada) on percussion, including the marimba. The ensemble regularly commissions and premieres new compositions. It has embraced a variety of styles in its repertoire, ranging from Taiwanese and Chinese music, World Music, New Music to Creative Improvisation. Its highly regarded interdisciplinary productions fuse music, dance (contemporary, aerial, flamenco, Chinese…etc), visual arts, and media arts.
The ensemble collaborates with artists from various genres, exploring new grounds and breaking down boundaries. In addition, the ensemble has created unique collections of works for its choral, orchestral, and cross-cultural collaboration projects. Past collaborators include Turning Point Ensemble, Vancouver Bach Choir, Vancouver Inter-Cultural Orchestra, Little Giant Chinese Chamber Orchestra (Taiwan), Oktoécho (Montreal), Uzume Taiko, Aeriosa Dance, Mozaico Flamenco Dance Theatre, Chimerik, Moving Dragon…etc.
The ensemble tours regularly across North America, performing at concert halls, educational institutions, and festivals. Recent appearances include The John F. Kennedy Center for the Performing Arts, the Smithsonian Institution's Freer Gallery, Canada Day Celebrations in Ottawa, Festival Miami, the Vancouver International Jazz Festival, the Chan Centre for the Performing Arts, and the National Arts Centre in Ottawa. As BC's spokesperson for the UNESCO ASPnet in Canada, the Orchid Ensemble gives educational presentations to various age groups. The ensemble's four CDs have won two International Independent Music Awards and received numerous nominations for JUNO, Western Canadian Music Awards, Canadian Independent Music Awards, and Canadian Folk Music Awards. 
The Orchid Ensemble has released four CDs: "From A Dream", "Life Death Tears Dream", "Road to Kashgar", and "Heartland", winning two Independent Music Awards and multiple nominations by JUNO, Western Canadian Music Awards, and Canadian Folk Music Awards.
溫哥華蘭韻樂團,1997年由來自台灣的二胡演奏家董籃發起成立,現任團員包括台灣古箏演奏家謝岱霖、加拿大打擊樂/馬林巴演奏家強納生‧柏那德。獨特的樂器組合,加上董籃融合東西方風格的特殊唱腔,曲目豐富多樣並不斷創新。除新編經典的傳統樂曲,有融合西洋作曲法及東方藝術思維的原創作品,又或是跨越印度、中東、猶太、印尼、佛朗明哥、巴爾幹半島等傳統的世界音樂,甚至有運用即興演奏的爵士風格。他們成熟的音樂表現和默契的合作,取之于紮實的技巧,同時更是不斷借鑒與重組不同音樂文化精華的結果。
蘭韻樂團每年以不同主題舉辦音樂會,委託加拿大作曲家創作新曲、並邀請不同族裔及領域的音樂家共同參與。近年來音樂會規模擴大,融入了舞蹈、動畫、書法、及多媒體藝術。此外,蘭韻樂團的主要活動在巡迴演出,從民俗音樂節、現代音樂節、爵士音樂節、室內樂音樂節、音樂廳、藝術中心、大學講座與示範、到校園兒童音樂會,展現樂團多重的風貌。樂團成立二十多年以來,足跡踏遍全北美,包括加拿大國家藝術中心、美國首府華盛頓的甘迺迪藝術中心、Smithsonian博物館、溫哥華陳氏演藝中心、多倫多湖畔藝術中心。於2002年起,蘭韻中樂團成為加拿大聯合國文化教育委員會代言人,為推廣族群融合而努力。