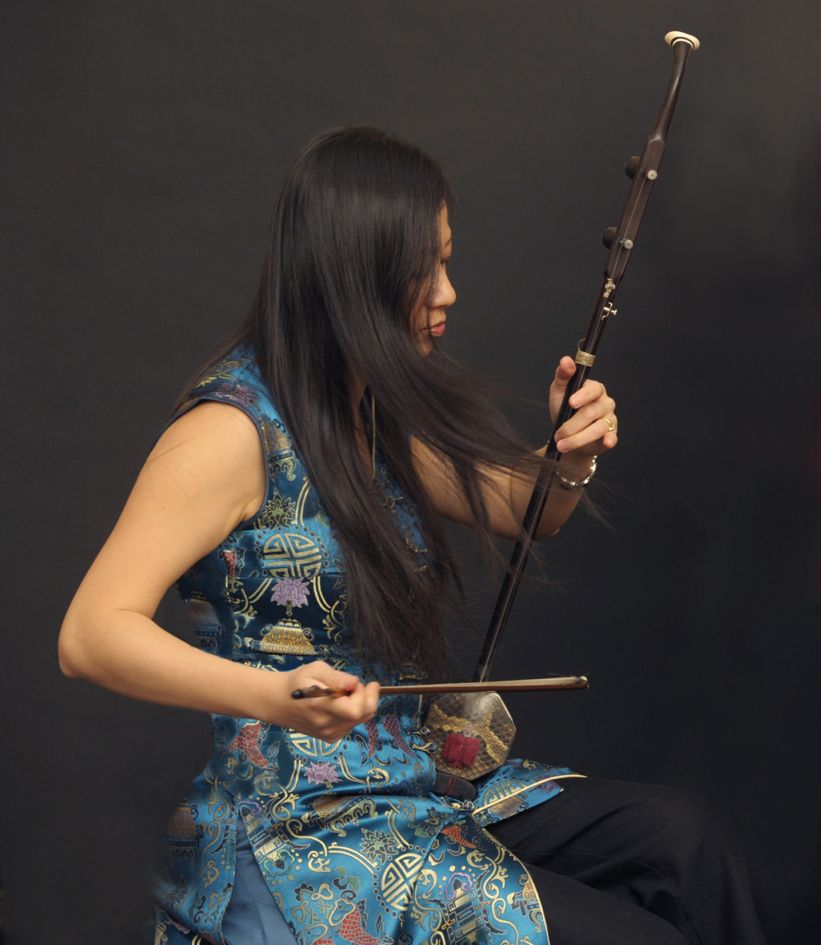 Lan Tung 董籃  – erhu (Chinese violin) performer & vocalist; composer & producer; artistic director 
Crossing between new music, improvised music, and world music, Lan plays a dynamic role in the Canadian music scene as an erhu performer, vocalist, composer, producer, and artistic director. Lan Tung is the artistic director of Orchid Ensemble, Sound of Dragon Music Festival, Sound of Dragon Ensemble, Vancouver Erhu Quartet, and Proliferasian. Lan has appeared as a soloist with Lublin Philharmonic Orchestra (Poland), Orchestre Metropolitain (Montreal) and Symphony Nova Scotia, and as a soloist/composer with Vancouver Symphony Orchestra, Turning Point Ensemble, Upstream Ensemble (Halifax), Vancouver Inter-Cultural Orchestra (Canada & US), Atlas Ensemble (Amsterdam & Helsinki), and Little Giant Chinese Chamber Orchestra (Taiwan & China). She was a featured artist at the Chan Centre for the Performing Arts and Festival International De Musique Actuel in Victoriaville, QC. 
Moving from Taiwan to Canada in 1994, Lan Tung draws inspiration from her background in Chinese music; however, an intensive interest in music outside her tradition has been a major drive in her artistic explorations. Her music often experiments with contradictions by fusing materials from different traditions and genres, such as the sense of breath/space from Chinese music, the rhythmic intricacy from Indian influence, the precision in contemporary compositions, the space for interpretation with graphic notations, as well as melodic or textural improvisation. Lan's compositions and performances are released on numerous CDs, winning International Independent Music Awards and multiple nominations by JUNO, Canadian Independent Music Awards, Canadian Folk Music Awards, and Western Canadian Music Awards.
Lan has worked in various interdisciplinary projects as a composer, performer, and/or producer. Past collaborators included Wen Wei Dance, TomoeArts (dance theatre), Aeriosa (aerial dance, Chimerik (multimedia), Moving Dragon Dance, Mozaico Flamenco Dance, Pangaea Arts (theatre), and Flicker Arts Collaboratory (media arts). In contemporary music, Lan has premiered numerous chamber, solo, orchestral and electroacoustic compositions, working with Canadian composers Tim Brady, John Oliver, Hope Lee, Edward Top, Moshe Denburg, Mark Armanini, Jin Zhang, Janet Danielson, Barry Truax, Dorothy Chang, Alice Ho, Steve Chatman, Itamar Erez, Rui Shi Zhuo, Jordan Nobles, Neil Weisensel, Paul Plimley, Yawen Wang, Farshid Samandari, Michael Vincent, Nova Pon, Amir Eslami, and Grace Lee.
Lan's longest running project is the JUNO nominated Orchid Ensemble, which she formed in 1997. Acclaimed as "one of the most adventurous groups uniting Eastern and Western musical traditions" (Georgia Straight), the trio with Dailin Hsieh on the zheng (Chinese zither) and co-leader Jonathan Bernard on percussion has toured internationally and performed at countless venues, ranging from concert halls, educational institutions, to major festivals. It is BC's spokesperson for the UNESCO ASPnet in Canada. Its repertoire includes Taiwanese and Chinese music, World Music, New Music to Creative Improvisation. Lan's fresh visions have taken the ensemble to collaborate with composers, musicians, dancers, media artists, and calligraphers from different cultures in innovative programming.
Lan is a founding member of the Vancouver Inter-Cultural Orchestra (from 2001) and was serving as its vice president for a number of years. This one of the handful professional orchestras in the world devoted specifically to performing new intercultural music on a grand scale. It brings together cross-cultural instrumentation with musicians and composers from many cultural and artistic communities in the Greater Vancouver area, including Chinese, Taiwanese, Japanese, Indian, Persian (Iranian), Latin and South American, Vietnamese, African, North American and European. 
Her fascination for creative improvisation has driven her to perform with Vancouver's most innovative improvisers. In 2007, she formed the trio Birds of Paradox with Ron Samworth and Neelamjit Dhillon to explore the fusion of composition and improvisation. Lan has traveled to Switzerland to study graphic scores and improvisation with Barry Guy and to Amsterdam to study and perform with improviser and contemporary violinist Mary Oliver. During her travels in Europe, she also improvised and/or performed with Magpie Improvised Music & Dance Company, Xu Fengxia, Shangyin Trio, Michael Moore, Wu Wei, Wilbert de Joode, Ig Henneman, Ab Baars, Anne La Berge, Naomi Sato, and Hui Chun Lin. She has collaborated with Xu Fengxia and Min Xiaofen at the Vancouver International Jazz Festival. Lan has attended the Vancouver Creative Music Institute (2007-2009), where she has studied and performed with Francois Houle and Paul Plimley (Canada), Han Bennink (Holland), John Butcher, Evan Parker and Barry Guy (UK)…etc. In 2012, Lan formed Proliferasian to perform her compositions for improvisers, including JP Carter (trumpet & electronics), Kevin Romanin (drums) and Colin Cowan (bass). Her duo with cellist Marina Hasselberg is named Have Bow Will Travel, referring to the adventurous journeys in their improvisation. Lan performs regularly with the NOW Orchestra. In 2021, Lan formed the all-star string players collective Crossbridge Strings to shift organically between Taiwanese, Chinese, Indonesian, Persian, and avant-grade music through improvisation.
Since 2014, Lan Tung started the bi-annual the Sound of Dragon Music Festival to preserve ancient traditions of Chinese music and celebrate diversity and creativity in the contemporary applications of this music, resulting from the interaction between musicians of various ethnic and musical backgrounds. By presenting musicians and ensembles from different ethnicities, nationalities, and musical trainings/genres, the festival breaks the stereotype of Chinese music, defines the sound of Canadian Chinese music, and reflects Vancouver's multicultural environment and a highly creative music scene. In 2016, she formed the Sound of Dragon Ensemble to further realizing her visions. The ensemble brings together some of the most skillful Vancouver musicians on both Chinese and western instruments. In 2020, she formed the Vancouver Erhu Quartet to explore new sounds in the combination of erhu and western strings.
Lan's collaboration with sitarist James Hamilton starting in 1996 was her first introduction to Indian music. From 2003, she began to perform with Tandava, whose 2005 self-titled debut CD was included on Global Rhythm Magazine CD Sampler, reaching over 120,000 readers. In 2020, she renewed her interests in Indian music to collaborate with Curtis Andrews (Carnatic percussion) and Jonathan Bernard (percussion) to form the Naadaleela Ensemble with Persian ney player Amir Eslami, Carnatic vocalist Vidyasagar Vankayala, jazz guitarist Jared Burrows, and Dailin Hsieh on the zheng.
Lan's other world music projects include Sounds Global Ensemble (with members of the Vancouver Inter-Cultural Orchestra) and Lalun (from 2011) with Liron Man on hand pans and Jonathan Bernard on percussion. Some of Lan's other past cross-cultural collaborators included with Persian santur player Alan Kushan, Persian tar player Ali Razmi, Vietnamese group Khac Chi Ensemble, Montreal world music ensemble Oktoécho, Klezmer woodwind player Mike Braverman, African drummer Mandido Morris, Mozaico Flamenco Dance Theatre, Uzume Taiko, Andean multi-instrumentalist Edgar Muenala, and Celtic band Mad Pudding. She has appeared on festival stages as a guest with the Tuvan ensemble Huun Hurr Tu, UK's premiere Afro/World Music band Baka Beyond, and Canadian legend Bill Bourne. Lan also joined qanoun player Hossan Shaker and his band Rahala in concerts in Egypt in 2005.
As a composer, the various influences come together in Lan's works. She uses traditional melodies as bridges to connect between Asian and western ears. She experiments with contradictions by taking culturally specific materials outside their context and fusing them with other genres. Incorporating improvisation with Chinese tradition, she explores new territory to discover fresh sounds on traditional instruments. Lan's composition credits range from chamber, improvisational, world and fusion, theater, dance, choral to film music. She composes regularly for the Orchid Ensemble, Proliferasian, Sound of Dragon Ensemble, Birds of Paradox, Have Bow Will Travel, and Naadaleela Ensemble. In 2010, she won the forth place at the Yin-Yang International Composition Competition in Taiwan. 
In 2011, the Little Giant Chinese Chamber Orchestra commissioned Lan to compose erhu concerto Peony Dreams for solo improviser and the orchestra. In Dec 2011, Lan performed as the soloist with the orchestra, giving the world premiere of Peony Dreams and the Taiwanese premiere of her 2009 work Ba Ban Variations at the National Concert Hall in Taipei. In their subsequent collaboration, her works Hopefully Happily Ever After (2014) and Ma Cao (2018) also received Taiwan premiere at the National Concert Hall. Lan was a featured composer/soloist with the orchestra on its 2019 China and Mexico tours. Lan has received the Canada Council's commissioning grant to compose Taste of Taiwan for the Vancouver Inter-Cultural Orchestra's Canada and US tour and the music for TomoeArt's dance theatre production of Weaver Woman. She was composer-in-residence with the Upstream Ensemble in Halifax.
Lan has been playing the erhu for more than four decades. She has studied various musical genres and adapting techniques on the erhu, including with Hindustani violinist Kala Ramnath in Bombay in 2004 & 2006, with Egyptian violinist Dr. Alfred Gamil in Cairo in 2005, and with Uyghur ghijek player Abdukerim Osman in northwestern China in 2012. In 2017 and 2018, she traveled to Inner Mongolia in northeastern China to study morin khuur (Mongolian Horsehead fiddle) with Bayar. In Taiwan, she studied the erhu under Chen-Ming Huang (founder of the Chai Found Music Workshop), Su-Feng Chen (concert master of Taipei Municipal Chinese Orchestra), and then with Chun-Tung Lee when she entered the Chinese Cultural University to major the erhu. Lan has won numerous first prizes in national music competitions in Taiwan and was a member of the Taipei Chinese Youth Orchestra. Lan has also studied with Ng K. B. (China Oriental Song and Dance Ensemble) in Canada, American Chinese erhu virtuoso Jebing Chen in the US, and Fun Ming Zhang (principal erhu player of the China Radio Orchestra) in China.
Tung performs internationally at music festivals, community concerts, school demonstrations, lectures, and university/college residencies. Past appearances included the Sibelius Academy in Helsinki, Taiwan's National Concert Hall, Singapore's Esplanade – Theatre on the Bay, and in the US the Kennedy Center for the Arts, the Smithsonian Institution, Detroit Institute of the Arts, Benaroya Hall for the Seattle Symphony Society. National performances included Festival International Musique Actuelle Victoriaville, Chan Centre for the Performing Arts, Ottawa's Canada Day Celebrations, Harbourfront Centre, Toronto Street Fest, The Music Gallery, Royal Conservatory of Music, Vancouver Jazz, Folk and Children's festivals, National Arts Gallery, National Library, Ottawa Jazz Festival, Ottawa Bluefest, Halifax's JazzEast, Sunfest, Montreal's Centre Pierre Peladeau and Chapelle Historique du Bon Pasteur.
In 1999, Lan received a special award from the Taiwanese Canadian Cultural Society for facilitating cultural exchanges in Canada through music. Lan founded the first Chinese Music program for young people in 1998, and she teaches in both English and Chinese. As the winner of BC Festival of the Arts' Award of Excellence, Lan's role in music is directly related to the rich cultural diversity in Vancouver.
Education

Atlas Academy, as a composer & performer, Amsterdam, 2012 & 2014

Montreal Contemporary Music Lab, as a composer & performer, 2012

Music & Dance Improvisation, Katie Duck workshop, Amsterdam 2009

Vancouver Creative Music Institute, 2007, 2008, 2009

Al Mozaico Flamenco Dance Academy, 2005-

Bachelor of Music Therapy, Capilano College, 1997-2000

Music Transfer Program, Capilano College, 1995-1997

Chinese Music Program, School of Music, Chinese Cultural University, Taiwan, 1992-1994
Private Studies
Mongolian horsehead fiddle with Bayar

Uyghur music with Abdukerim Osman, Urumqi, China, Nov-Dec, 2012

Graphic scores & improvisation – with composer/bassist Barry Guy in Switzerland, 2009

Improvisation with violinist Mary Oliver in Amsterdam, NL, 2008

Hindustani classical music with violinist Kala Ramnath in Bombay, India and California, US, since Dec 2004;

Egyptian music & maqam with violinist Dr. Alfred Gamil in Cairo, Egypt, 2005

Erhu studies –

with Zhang Fun Min, Beijing, China, 2002

with Jebing Chen, San Francisco, USA, 1999

with Ng K-B, Vancouver, Canada, 1994-1996

with Lee Chun Tung, Chinese Cultural University, 1992-1993

with Chen Su-Feng, Taipei, Taiwan, 1990-1992

with Chen-Ming Huang, Taipei, Taiwan, 1989-1990

Vocal studies –

with Joseph Shore, 2004

at Capilano College,1994-1996

with Gou Yue Zhu, 1986-1988
Productions (as a producer & performer)

"Gather Our Dispersed From the Ends of the Earth", tribute for composer Moshe Denburg – Orchid Ensemble, 2019

Sound of Dragon Ensemble & Melody of China, 2019

"Crossing Mountains & Seas" – Orchid Ensemble with Aeriosa Dance, Sammy Chien, Chengxin Wei, 2019

"Consensus" – Sound of Dragon Ensemble with Dong Mei (dance), 2017

"Music of the Heaven" – Orchid Ensemble with Flicker Arts Collaboratory, John Oliver and Stefan Smulovitz, 2015

"Fire & Water" – Orchid Ensemble concert, 2015

Sound of Dragon Music Festival, 2014, 2016, 2018, 2021 (Digital)

"Gold Mountain Dream" –

exploring the themes of diaspora and cultural conflict through interactive media arts, live music, spoken word, and backed by life-stories collected from numerous insightful interviews from different generations of Chinese Canadians.

Orchid Ensemble with Flicker Arts Collaboratory (media artists Kenneth Newby and Aleksandra Dulic),

2011

"Mountain High River Flow…without end" –

f

eaturing animated brush painting of China's famous Huangshan (Yellow Mountain),

2011




"Ten Thousand Miles to Kai-feng" – exploration of cultural exchange between Jews and Chinese, Orchid Ensemble with woodwind player Mike Braverman and percussionist Boris Sichon, 2009

"Ghost Project" – multimedia celebration of Halloween, Orchid Ensemble with Flicker Arts Collaboratory, and Indonesian  dancer/musician/composer Sutrisno Hartana, 2008

"Triaspora" – Chinese Diaspora, Orchid Ensemble with Moving Dragon (Chinese contemporary dance)

and

Flicker Arts Collaboratory

,

2007. Remounted at BC Scene, National Arts Centre, April 2009.

"Multimedia – Road to Kashgar" – Orchid Ensemble with

Flicker Arts Collaboratory

, 2007.

"Parting at Yang Kuan" – music and poetry, Orchid Ensemble with flautist Mark McGregor, Egret Choirs, and

Flicker Arts Collaboratory

, 2006.

"Multimedia – Road to Kashgar" – Orchid Ensemble with media artist Donna Szoke, 2005


"Contemporary Chinese New Year" – contemporary music for Chinese instruments, Orchid Ensemble 2004

"Road to Kashgar" – Silk Road Project, Orchid Ensemble with Iranian santur player Alan Kushan, 2002

In Concert, Orchid Ensemble & Uzume Taiko, co-produced with Bonnie Soon, 2001

"Heartland" – Orchid Ensemble with African percussionist ManDido Morris and Jewish woodwind player Mike Braverman, 1999.

"Lan Tung, Zhuo Wei Hong & Zheng Rui Ren recital" – Taipei, Taiwan, 1994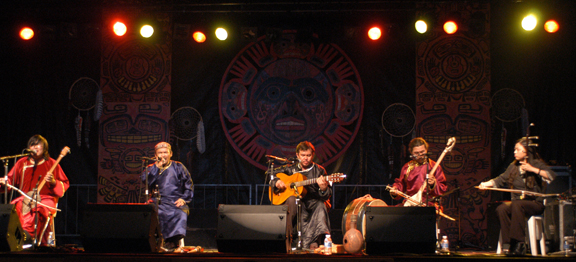 Awards & Competitions

Canada Council Grants for Professional Musicians 2002 (erhu, China), 2004 (Hindustani music with Kala Ramnath, India), 2008 (graphic notation with Barry Guy, Europe), 2017 (Horsehead fiddle, Inner Mongolia)

BC Arts Council Career Development Grants 1999 (erhu with Jiebing Chen, San Francisco), 2007 (improvisation with Mary Oliver, Amsterdam), 2008

Special award from the Taiwanese Canadian Cultural Society for promoting Chinese music in Canada, and facilitating cultural exchange through music, 1999.

Awards of Excellence, BC Festival of Arts, 2001.

First Prize – Erhu solo competition of Taiwan 1991.

First Prize – Erhu solo competition of Taipei 1991.

First Prize – Erhu solo competition of Taipei 1990.
Teaching
Eric Hamber Secondary School, Vancouver, 2000

Jamieson Elementary School, Vancouver, 1998-1999

Vancouver Chinese Cultural Centre, 1996

Chinese Ensemble of Taipei Medical College, 1993-1994

The Affiliated Senior High School of National Taiwan Normal University, 1993-1994

Private teaching studio, since 1992
Discography
"From A Dream" (2018) – winner of the International Independent Music Awards (Eclectic Song), nominee of the Independent Music Awards (Eclectic Album, Instrumental Song, Producer in Instrumental Music), and Western Canadian Music Awards (Global Artist of the Year)
"Life Death Tears Dream" (2012) – winner of International Independent Music Awards (Eclectic Song), nominee of Western Canadian Music Awards, and Canadian Folk Music Awards (Pushing the Boundaries), and Independent Music Awards (Traditional World Album).
"Birds of Paradox" (2010), trio of Ron Samworth, Lan Tung, and Neelamjit Dhillon, nominated for Instrumental Music of the Year, Western Canadian Music Awards
"Dances & Dreams" (2007), special gift for all BC newborns, CBC Radio Production
"Tandava" (2005) – nominee of International Independent Music Awards, Canadian Independent Music Awards, and Canadian Folk Music Awards
"Road to Kashgar" (2004) – nominated for World Album of the Year, JUNO Awards & Outstanding Instrumental Music,Western Canadian Music Awards
"Heartland" (2000) – nominated for Best World Music & Best Instrumental Music, West Coast Music Awards