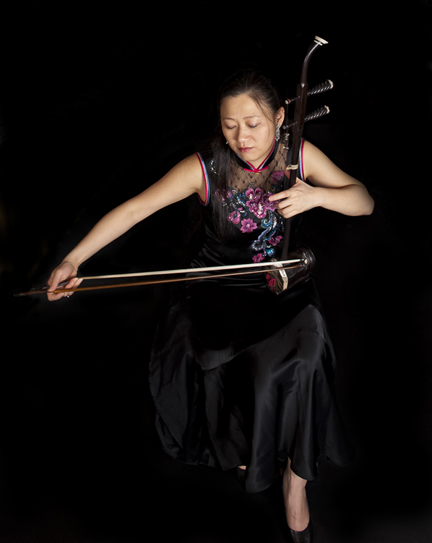 Lan Tung is based on the traditional and unceded territories of the Coast Salish Nations, including the Musqueam, Squamish and Tsleil-waututh Nations.
Lan Tung 董籃  – erhu (Chinese violin) performer & vocalist; composer & producer; artistic director 
Crossing between new music, improvised music, and world music scenes, Taiwanese Canadian Lan Tung is the founder, artistic director, and resident composer of various cross-cultural projects, such as the JUNO nominated Orchid Ensemble, the Sound of Dragon Ensemble, and Vancouver Erhu Quartet. She is the founder/artistic director of the biennial Sound of Dragon Music Festival that showcases innovative projects and facilitates collaboration. She co-leads Naadaleela Ensemble (fusing Taiwanese, Chinese, Indian, and Persian traditions with jazz and other influences) with Curtis Andrews. In 2012, Lan formed Proliferasian to perform her compositions for improvisers. Her duo with cellist Marina Hasselberg is named Have Bow Will Travel, referring to the adventurous journeys in their improvisation. Her latest project Crossbridge Strings uses improvisation to shift organically between Taiwanese, Chinese, Indonesian, Persian, and avant-grade music.
Lan collaborates with Ron Samworth and Neelamjit Dhillon in Birds of Paradox, with Liron Man and Jonathan Bernard in Lalun. She performs regularly with the Vancouver Inter-Cultural Orchestra, Sounds Global Ensemble, BC Chinese Music Ensemble, and the NOW Orchestra. Lan has toured internationally and appeared as a soloist with Lublin Philharmonic Orchestra (Poland), Orchestre Metropolitain (Montreal) and Symphony Nova Scotia, and as a soloist/composer with Vancouver Symphony Orchestra, Turning Point Ensemble (Vancouver & Taiwan), Upstream Ensemble (Halifax), Vancouver Inter-Cultural Orchestra (Canada & US), Atlas Ensemble (Amsterdam & Helsinki), and Little Giant Chinese Chamber Orchestra (Taiwan & China).
Lan Tung's music often experiments with contradictions by fusing materials from different traditions and genres, such as the sense of breath/space from Chinese music, the rhythmic intricacy from Indian influence, the precision in contemporary compositions, the space for interpretation with graphic notations, as well as melodic or textural improvisation. Lan's compositions and performances are released on numerous CDs, winning International Independent Music Awards and multiple nominations by JUNO, Canadian Independent Music Awards, Canadian Folk Music Awards, and Western Canadian Music Awards.
Lan has worked in various interdisciplinary projects as a composer, performer, artistic director, and/or producer. Past collaborators included Wen Wei Dance, TomoeArts (dance theatre), Aeriosa (aerial dance, Chimerik (multimedia), Moving Dragon Dance, Mozaico Flamenco Dance, Pangaea Arts (theatre), and Flicker Arts Collaboratory (media arts). In contemporary music, Lan has premiered numerous chamber, solo, orchestral and electroacoustic compositions, working with Canadian composers Tim Brady, John Oliver, Hope Lee, Edward Top, Moshe Denburg, Mark Armanini, Jin Zhang, Janet Danielson, Barry Truax, Dorothy Chang, Alice Ho, Steve Chatman, Itamar Erez, Rui Shi Zhuo, Jordan Nobles, Neil Weisensel, Paul Plimley, Yawen Wang, Farshid Samandari, Michael Vincent, Nova Pon, Amir Eslami, and Grace Lee.
Lan started to learn the erhu at the age of 10 and went to the Chinese Music Department at Taiwan's Chinese Cultural University. With the support of the Canada Council for the Arts and the BC Arts Council, she has studied graphic score with Barry Guy in Switzerland, improvisation with Mary Oliver in Amsterdam, Hindustani music with Kala Ramnath in India, Uyghur music with Abdukerim Osman in Xinjiang, and Mongolian horsehead fiddle with Bayar in Hohhot, China; as well as making multiple trips to perform with improvising musicians in Germany, Switzerland, and the Netherlands. At the Vancouver Creative Music Institute (2007-2009), she has studied and performed with Han Bennink (Holland), Barry Guy, Evan Parker, John Butcher (UK), Francois Houle, Paul Plimley…etc.
Lan has been a featured soloist at Musica Nova Festival (Helsinki), National Concert Hall (Taiwan), Festival de Morelia (Mexico), Place des Arts (Montreal), and the Chan Centre for the Performing Arts (Vancouver); and as a leader of her ensembles at Esplanade – Theatre on the Bay (Singapore), the Kennedy Centre for the Performing Arts (DC, USA), National Arts Centre (Ottawa), Festival International Musique Actuelle Victoriaville, Festival Miami, Vancouver International Jazz Festival, Vancouver International Folk Festival, Ding Yi Chinese Chamber Music Festival (Singapore), Ottawa Folk Festival, Ottawa Jazz Festival..etc.