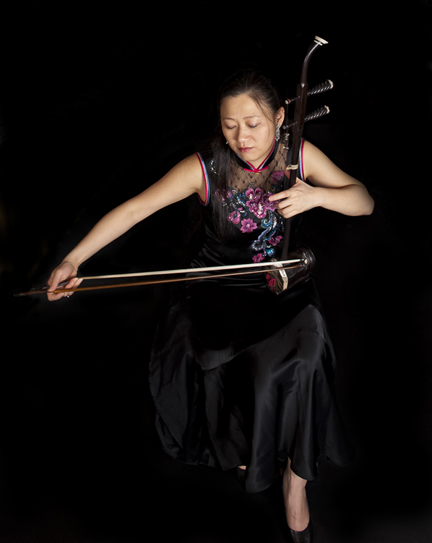 Lan Tung 董籃  – Artistic Director of Orchid Ensemble, Sound of Dragon Music Festival, and Proliferasian; erhu (Chinese violin) player & vocalist; composer & producer
Crossing between Vancouver's new music, improvised music, and world music scenes, Lan Tung is the artistic director of Orchid Ensemble, Sound of Dragon Society, and Proliferasian. Lan has appeared as a soloist with Orchestre Metropolitain (Montreal) and Symphony Nova Scotia, and as a soloist/composer with Vancouver Symphony Orchestra, Turning Point Ensemble, Upstream Ensemble (Halifax), Vancouver Inter-Cultural Orchestra (Vancouver & Toronto), Atlas Ensemble (Amsterdam & Helsinki), and Little Giant Chinese Chamber Orchestra (Taipei).
Lan Tung's music often experiments with contradictions by taking culturally specific materials outside their context. Her works embody the rhythmic intricacy from Indian influence, the sense of breath/space from Chinese tradition, and many years of experiences in interpreting contemporary Canadian compositions. Incorporating improvisation and graphic notations, Lan's compositions and performances are released on numerous CDs, winning International Independent Music Awards and multiple nominations by JUNO, Canadian Independent Music Awards, Canadian Folk Music Awards, and Western Canadian Music Awards.
Originally from Taiwan, Lan has studied graphic score with Barry Guy, improvisation with Mary Oliver, Hindustani music with Kala Ramnath, Uyghur music with Abdukerim Osman, and Mongolian horsehead fiddle with Bayar, in addition to her studies of Chinese music since a young age. Lan studied the erhu at the Music Department of the Chinese Cultural University in Taiwan. At the Vancouver Creative Music Institute (2007-2009), she has studied and performed with Han Bennink (Holland), Barry Guy, Evan Parker, John Butcher (UK), Francois Houle, Paul Plimley…etc.
Lan has toured internationally in Europe, Asia, and North America. She has been a featured soloist at Musica Nova Festival (Helsinki), National Concert Hall (Taiwan), Festival de Morelia (Mexico), and Place des Arts (Montreal); and as a leader of her ensembles at Esplanade – Theatre on the Bay (Singapore), the Chan Centre for the Performing Arts (Vancouver), the Kennedy Centre for the Performing Arts (DC, USA), National Arts Centre (Ottawa), Festival International Musique Actuelle Victoriaville, Festival Miami, Vancouver International Jazz Festival, Vancouver International Folk Festival, Ding Yi Chinese Chamber Music Festival (Singapore)..etc.