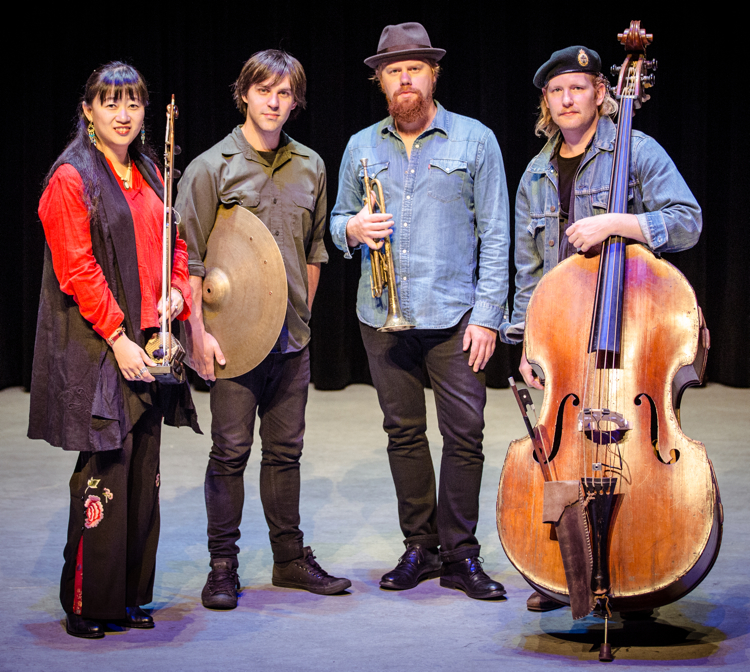 click on the photo to download high resolution version.
left to right: Lan Tung, Kevin Romain, JP Carter, Colin Cowan
photographer: Wayne Lau
click on the photo to download high resolution version.
Above – left to right: Lan Tung, JP Carter, Kevin Romain, Colin Cowan
Below – left to right: Colin Cowan, Kevin Romain, JP Carter, Lan Tung
photographer: Nenad Stevanovic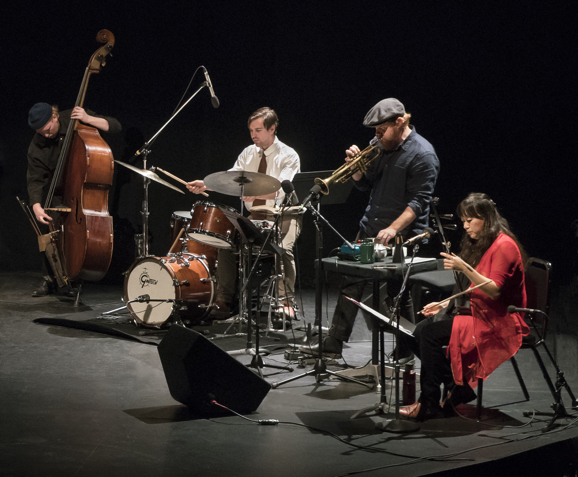 "Enter sonic territory that's never been explored before", SHAW TV 
Traveling freely between composed and improvised worlds, Proliferasian is a unique voice rising from the west coast of Canada. The band encompasses both rhythmic intricacy in its compositions and the fluidity and spontaneity in creative improvisation. Proliferasian performs cutting edge music rooted in Chinese tradition and avant-garde jazz, representing the merging of two genres, while embracing influences from other cultures into the equation. The musicians explore the contrasting, complimenting, and sometimes contradicting natures of multiple genres. The result is a new "musical species" that proliferates and transforms continuously. Proliferasian may take inspiration from Asian music, literature, landscape, legends, or paintings, but its music will definitely break any preconceptions of Asian cultures.
Formed in 2012, Proliferasian has brought together some of Vancouver's most innovative musicians. Its core members include Lan Tung (erhu/Chinese violin & vocals), JP Carter (trumpet and electronics), Colin Cowan (bass), and Kevin Romain (drums). Additional musicians are invited to form an augmented force for specific projects.
Proliferasian has collaborated with a number of internationally renowned guests: multi-instrumentalist Fengxia Xu (zheng/Chinese zither, sanxian/Chinese lute, and vocals) from Germany, pipa player & vocalist Xiao Fen Min from New York, erhu players Jinming Dong from China, and Ka Dao Yin from Taiwan. The musicians were featured soloists in Proliferasian's collaboration with Taiwan's Little Giant Chinese Chamber Orchestra.
Proliferasian has performed at the Festival International Musique Actuelle Victoriaville, Sonic Boom Festival, Vancouver Jazz Festival, Capilano University Concert Series, the Sound of Dragon Music Festival, Taiwanese Canadian Arts Festival, and various local venues. Proliferasian's activities are supported by the Canada Council for the Arts and the BC Arts Council.
With the blessing of the legendary Vancouver improviser/pianist/composer Paul Plimley, the band is named after his composition Proliferasian, commissioned in 2001 by the Orchid Ensemble, also under Lan Tung's artistic direction. This piece was Lan Tung's first encounter of a composition with extended structured improvisation. Proliferasian is humble to operate under this name to honour the friendship and mentorship of Paul Plimley.
樂團與樂手的中文簡介
Proliferasian於2012年由來自台灣的二胡演奏家董籃創立,在溫哥華Sonic Boom現代音樂節首次登台,之後多次於溫哥華爵士音樂節演出,並在2014年龍吟滄海音樂節與臺灣小巨人絲竹樂團合作,帶來古典與爵士的碰撞,東方與西方的對比,傳統音樂與即興音樂同台競奏。
Proliferasian專門演奏董籃的原創作品。身為傳統樂器的演奏者,她的作品卻突破傳統作曲模式,透過即興演奏進行臨場的再次創作,樂譜同時使用五線譜與圖象譜。五線譜確保樂曲結構的完整,可組織繁複的節奏,設定和聲與配器。圖象譜沒有固定的格式,用圖形及文字來啓發即興演奏中的情緒轉折,及音響色彩的變化。
董籃的創作素材以亞洲文化為出發,源於她自小在臺灣學習的中國音樂,戲曲說唱、神話故事、詩詞與文學、歷史典故、書法繪畫、地理人文,都可能是下一首樂曲的啓發。然而,Proliferasian的音樂與傳統文化予人的印象是絕然不同的。因為董籃在每一個作品之中融合了她在加拿大接觸到的不同民族的傳統音樂,加上多年來做為演奏家對現代作品的演繹,以及不斷實踐學習的即興表演。
Proliferasian是Proliferation 這個字演變而來的,原意是快速繁衍、增殖、擴散。Proliferasian代表將亞洲音樂傳統進行突變、繁衍,產生一種新的樂種。它既不是東方,也不是西方,既不是傳統,也不全是現代。這是一種穿越了的音樂,要打破原有東西方的分界,成就一個新的聲音。
即興演奏和按譜演繹作品,為音樂表演中的兩個不同的系統。即興演奏展現的是演奏者即席的創造力與想像力,樂手之間的默契配合及臨場的反應。按譜演繹作曲家的作品,講求精准的表達作曲家架構好的音響世界,將反覆練習的樂句完美重現。Proliferasian的音樂綜合這兩個世界,演奏者在精心設計好的架構之下,即興、發展、再創。這個架構有著相當的彈性,可依當下情況擴展或收縮,以致於同一首樂曲在每一場演出都可能有不同的發展。這些不可預知的可能,是激發演奏者最好的養料,每每於演出中帶來意想不到的驚喜。
加入Proliferasian與董籃一同遊走於即興和非即興的邊緣,為加拿大著名前衛爵士樂手:JP.卡特 (JP Carter 小喇叭及電子合成器)、凱文.羅曼(Kevin Roman鼓手)、寇林.寇文(Colin Cowan貝斯手)。
Lan Tung 
– erhu & vocals
Lan creates a new musical language combining
 her various trainings and influences. The sounds of the East and the West, contemporary and traditional, all enter and exit the canvas freely from time to time. Her rhythmic intricacy has a direct influence from Indian music, while her passionate melodies from Flamenco and Central Asian music, and the sense of breath/space from Chinese music. 
Lan draws inspiration from ancient myth, philosophy, poetry, paintings, landscape, and other imageries. 
However, she experiments with contradictions by taking culturally specific materials outside their context and fusing them with other genres. Incorporating improvisation and graphic notations with Asian traditions, she explores a new territory to discover fresh sounds.
JP Carter – trumpet & effects
JP Carter is a multiple Juno award-winning trumpet player and composer from Vancouver, BC, with over 30 years of playing experience. Carter's singular approach to the trumpet and versatility as an improvisor and composer make him a vital contributor to the Vancouver music community. JP incorporates a variety of techniques into his trumpet playing, utilizing and experimenting with acoustic (traditional, extended) and electronic (effected, amplified) methods to create a wide spectrum of sound. Currently a member of several Vancouver-based groups, including Destroyer, Dan Mangan + Blacksmith, Fond of Tigers, Tony Wilson 6tet, Mary Margaret O'Hara & Peggy Lee's Beautiful Tool, Gordon Grdina's Haram, Michael Blake's Variety Hour, and the various New Orchestra Workshop ensembles. JP's main projects as a composer/performer continue to be Inhabitants, Aeroplane Trio, and Carsick. These three long-standing original projects have all released albums on Vancouver's Drip Audio label [dripaudio.com]. Most recently, JP has been working on a solo amplified trumpet project. He will be releasing a self-produced document of this solo work in 2016 entitled "Toy & Tool".
Kevin Romain – Drums
Drummer and composer Kevin Romain has established himself as one of the most in-demand drummers in Vancouver's creative music scene. After relocating from Windsor, ON in 2007, Romain studied jazz and contemporary music at Vancouver Community College. Since then he has toured regularly across North America as well as Europe and West Africa. He has studied with Mark Guiliana, Tomas Fujiwara, Bernie Arai and Dylan Van Der Schyff, and has shared the stage with notable musicians such as new music luminary Anthony Braxton and the late legendary West African percussionist Doudou N'Diaye Rose. In the past year alone, Romain has travelled to Dakar, Senegal to study Sabar music and perform in the Deggi Daaj Festival of Drumsets and Dance, completed a solo residency at the prestigious Banff Center in Alberta, received a professional development grant from the BC Arts Council to study in New York City for six months, and played two full scale tours in the USA. Romain is now based in East Vancouver and maintains a presence in Brooklyn's creative music scene. He can be heard performing regularly with art pop ensemble Only A Visitor, new music iconoclasts We Just Stole A Car, and indie rock group Mega Bog among many others, and also leads two jazz trios under his own name. Romain has garnered acclaim as a unique voice in the free improvisation community and is currently writing an instructional book detailing his polyrhythmic concept entitled Natural Time Through Precision. 
Colin Cowan – Bass
Colin appears to be well-immersed in many sectors of both the Vancouver and national music/arts scenes. He was originally born in New Brunswick, and since leaving at the age of 18, has lived, performed, composed, collaborated and studied many realms of music and performance art for more extended periods in Toronto, Halifax, California, London (UK), Germany, and Australia. He took place in an array of exciting international festivals, programs, and workshops during those years. Some of those credits include studying briefly contrabass lessons with New York's Mark Helias, taking a residence at The Banff Centre, learning and performing at Toronto's The Second City, producing a month long five star-rated show at the Ediburgh Fringe Festival, and playing main stage at UK's Glastonbury Music Festival. Bands he currently plays basses with locally & internationally include Black Mountain, Dalava, Aram Bajakian Trio, Sun Ra's Stars System, DADA PLAN, Tiny Pyramids, Woodpigeon, Tishomingo String Band,  Moriarty Trio, Jenn Bojm, and Rob Butterfield. Cowan plays the guitar/song-writes/sings/produces records independently in only one project: his band Colin Cowan & The Elastic Stars. He also happens to be creator/manager/curator/permanent resident artist of China Cloud Studios.   www.elasticstars.com
Audience feedback:

"I have been at awe with your creative fusion of Chinese traditional instrument and staple Jazz instruments. And the vocal performance is such a powerful presence and evokes strong home-coming emotions…I thoroughly enjoyed your eye-opening performance and cannot wait to see more of your performance in the future… The dialog made by improvization between er-hu and clarinets was a surprise. I am especially amazed that much of the music was improvised yet they melt together so harmonously." – Ming Li, July 2012, Vancouver