La Scena Musicale – Vol. 17, No. 4
Lan Tung: Musical Polymath
by Crystal Chan / December 1, 2011
Flash vers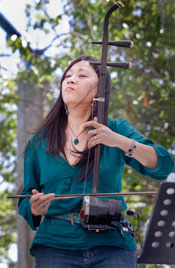 ion here.
Lan Tung inhabits a space of paradox: as a soloist and collaborator, a performer and composer, she sits at the crossroads between the East and the West, innovation and tradition. No wonder she founded an ensemble named Birds of Paradox. That particular project brings together Indian, Celtic and Chinese musical influences, but her many other projects—the JUNO-nominated Orchid Ensemble, the Vancouver Inter-Cultural Orchestra, and Tandava being the main ones—are no less melting pots of style.
Taiwanese-born erhu player Tung is based in Vancouver, but her playing takes her on extensive, diverse tours. Often, she's soloing with an orchestra one week and playing for a visual arts/media or dance performance the next. In between gigs she studies fiddle-instruments around the globe with players of all stripes—from the erhu, with principal players in China, Taiwan, Canada and the U.S. to improvisation with violinist Mary Oliver in Amsterdam, Hindustani classical music with Kala Ramnath in Bombay, Egyptian music and maqam with Dr. Alfred Gamil in Cairo, graphic scores and improvisation with Barry Guy in Switzerland, and vocal music and music therapy, to boot. Her projects straddle world, new, chamber, orchestral, and multidisciplinary music. The myriad influences show up in her compositions and improvisations.
This is nothing new, she observes: the meeting point of cultures "has been an inspiration for musicians around the world for centuries," she says. "It's very natural that musicians are interested in hearing different styles of music being mixed together. There may be a clash, a contradiction, but it's also where you get the new sounds to come out. I really enjoy playing with the tension between the differences and the common places."
If versatility is her calling card when it comes to musical genres, ironically, it isn't when it comes to her instrument. Although Tung studied piano and guitar briefly while completing her post-secondary degrees, she has rarely strayed from the erhu since picking it up for the first time at age 10. "I have a collection of other fiddle instruments from many different countries that I think maybe I'll learn to play—but I just haven't got time to learn any of it!" she says. "There's still more to learn with the erhu." Yet, learning erhu was no more than a matter of convenience at the time. "I just wanted to learn any musical instrument," she explains. "Economically, Taiwan was still in the beginning of the big rise and so not that many families could afford a piano, piano lessons. When the Chinese orchestra [at school] started, it was a chance to learn musical instruments for free. I joined right away."
The erhu is commonly described as a Chinese violin. It's a useful point of comparison: they're both wooden stringed instruments in the soprano voice range—the erhu with a smaller two and a half octave range—played with a horse-hair strung bow. But the erhu is held vertically on the player's lap and the bow is placed between the two—instead of four—strings. You put rosin on both sides of the bow and one side plays one string and the other, the second. The underhand bow hold is more similar to a double bass German bow hold than the one used for violin—similar to the way you hold chopsticks. There is no fingerboard: fingers press against the strings suspended over, instead of on, the wood. All this means the erhu can be played longer with less fatigue; pitch can be manipulated not only by moving up and down the fingerboard but also by varying the pressure on the strings, allowing for a second style of vibrato. Of course, there are differences between the prototypical erhu instruments and the standard classical erhu—there are over 50 variations of related folk instruments from China. The strings were traditionally made of silk but are now commonly made of steel; Beijing opera instruments were made of bamboo, southern ones of coconut.
Far from being tired of comparing the violin with the erhu, Tung believes the interplay between the familiar and the exotic is what makes intercultural and inter-genre music affecting and inventive. "When people listen to music, they naturally reference what they're familiar with," she explains. Listening to music "is very subjective and based on people's experience. It may not be what the musicians or composer intends, but that's fine because that's what makes it work. For example, in my compositions I sometimes use Chinese melodies and then I'll twist them, make changes to them: the modes, the notes. That's really interesting to me because the ear is used to something and then you create a challenge by having a new sound. This is why I haven't got time to learn different instruments! I'm learning music, not just Chinese music or the erhu. I get to learn musical languages."
She pauses, then concludes: "There is so much more in music if you take away the boundaries between traditional and contemporary and see only music."
Lan Tung solos on erhu with the Orchestre Metropolitain in Mark Armanini's Heartland:
• January 25, Église Notre-Dame-des-Sept-Douleurs, Verdun
• January 26, Maison symphonique, Montreal
• January 28, Salle Désilets du Cégep Marie-Victorin, Rivière-des-Prairies